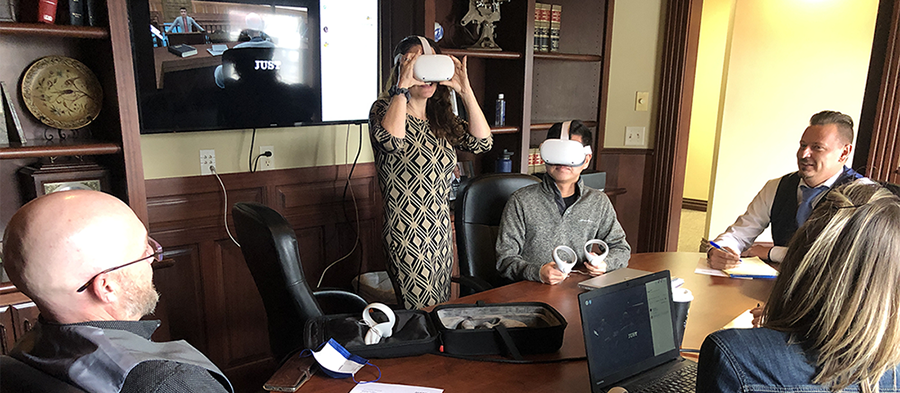 JUST by Funnel 33 – CASE STUDY
BACKGROUND
Smith Horras, PA is an established injury law firm in Boise, Idaho. Like many firms, its success depends largely on its attorneys' performance in the courtroom. However, finding attorneys who already possess the required level of experience has been difficult. Despite an attorney's best efforts, the opportunity isn't always there to appear in court on a regular basis. It often falls on Smith Horras's senior-level associates to coach these attorneys on proper conduct, procedures, and strategies.
The COVID-19 pandemic has exacerbated this issue in new and unexpected ways. Says Smith Horras attorney James Dorman, "We used to cut our teeth going to hearings and just being in court a lot. That's all changed. Because of the pandemic, fewer and fewer actual in-court experiences are offered to anyone, let alone new attorneys."
As courtrooms around the world shut their doors, Smith Horras partner William Smith approached JUST co-founder Dennis Shewmaker for help. Smith sought virtual tools that could help his firm set up attorneys for lifelong success. He was so passionate about this need, he teamed up with Shewmaker to develop the solution.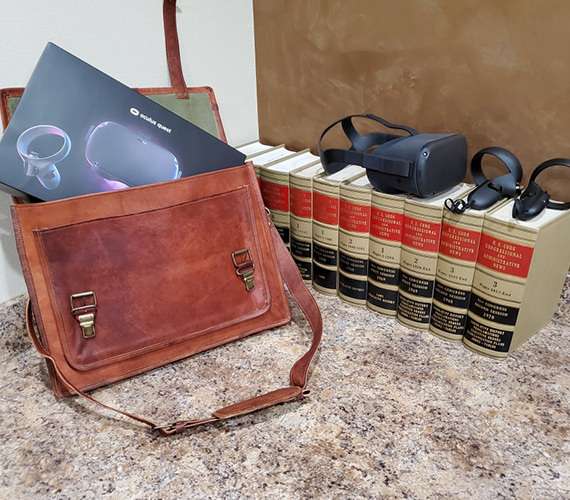 Developed with a team of legal experts, JUST VR Powered Legal Training reimagines traditional methods of practicing courtroom presentation skills. Virtual Reality is the next best thing to being present in a courthouse.
SOLUTION
When the product was ready, JUST sent a headset to Smith Horras and walked Bill Smith through the set-up remotely. He immediately began using the product to practice his own presentations and wanted a demo session for his entire staff. "Right away, I was excited to show everyone how easy and accessible this thing was," says Smith. "You can use it pretty much anywhere, any time." The rest of the firm also saw the value of this new teaching technology and quickly adopted it into their curriculum.
RESULTS
Today, young attorneys at Smith Horras are more effective and more confident thanks to JUST. They are able to gain courtroom experience that would take years — or even decades — to accumulate in just a few weeks. Dorman relates, "I honestly believe that had I used this product as a young lawyer, I would have been much more comfortable in my first hearings. The ability to play back my presentations and correct things like posture, pacing, and how often I looked at the jury would have been extremely helpful."
JUST has been beneficial for even seasoned attorneys now that real-life opportunities have been effectively eliminated for now and in the near future. "JUST has allowed our firm to keep enhancing our presentations and honing our trial skills," says Smith. " I can literally see improvement each time I practice a presentation using JUST VR. Anytime I need to present, my motto now is 'practice three times in JUST first'!"
When asked how virtual trial experience compares to the real thing, Smith says, "JUST is so lifelike that I promise you will get a pit in your stomach when you put on the headset and turn to face the judge. I do every time." Dorman agrees. "JUST VR feels very much like the courtrooms where I practice. It's like Judge Wetherell is really giving me permission to continue with my argument. And I was surprised when I first turned to the jury — one of them was dozing and others were in various states of engagement. That definitely happens in real life."
The technology has also saved the firm money. As fellow attorney Ellen N. Smith points out, "JUST allows our team to be more efficient and practiced without taking on the expense of maintaining a courtroom practice facility."
The Smith Horras team have become enthusiastic advocates of JUST, recommending it to friends and colleagues at other area firms.